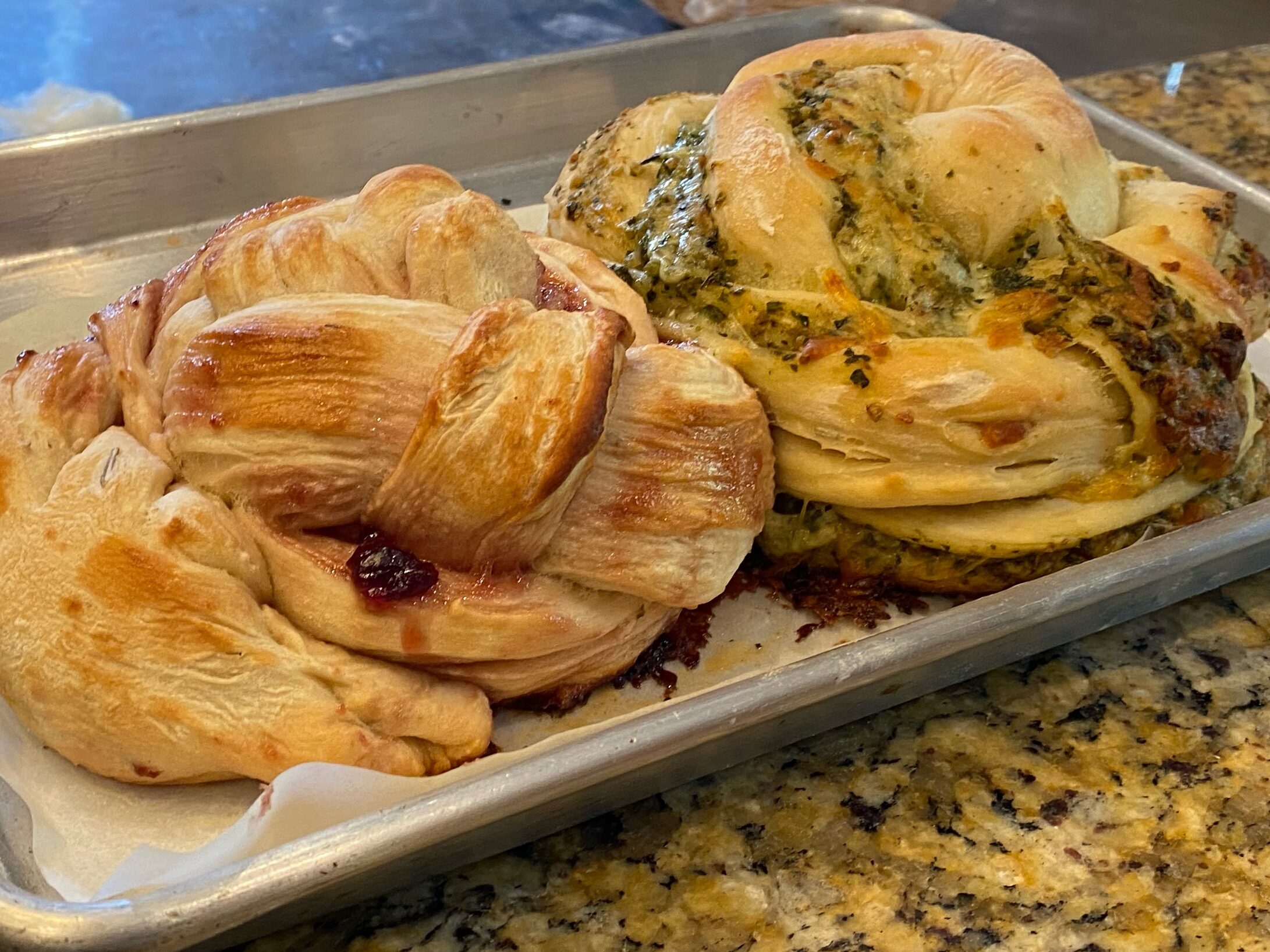 All Purpose French Bread
This is one of the more popular breads during kids camp. You can use any kind of filling you wish making this and extremely versatile dough. If you want to try your hand at bread making, this is a four ingredient bread that is perfect for beginners or as an option to knock out during the busy week. While bread making can be simple, there are some techniques that will help you fineness your loaves. We offer hands on guidance by a trained chef. Take a look at the bread making classes that are offered here. We will walk you through it so you feel confident to go at it alone!
Ingredients:
2 ½ cups unbleached bread flour
1 cup warm water mixed with 1 ¼ tsp yeast
1 tsp kosher salt
Extra water and or flour to form dough
*Optional – Fresh Herbs – ¼ cup of fresh chopped herbs or more.
Instructions:
1.) Mix Ingredients: In a bowl, mix the flour and salt. In a separate clean glass, mix hot water (not to exceed 135 degrees) and yeast and wait about 5 to 8 minutes to proof or 'bloom' yeast. Combine the ingredients from the jar into the bowl and mix.
2.) Knead dough: Dough should start to come together. At this point, knead the dough for about 15-20 minutes or about 100 turns. Gluten membrane develops
3.) 1st Rise Make ball of dough. Cover, and let rise for at least 1.5 hours to 1.75 hours. This time is important to develop flavor and appearance
4.) Shaping & 2nd Rise Divide the dough into two pieces & shape into desired shapes/loaves. [Filled bread or regular Baguette shape, braids, etc.] Place onto a baking sheet to rise 2nd time. (about 30 minutes.) Rise in a warm area (*If rising on a Cookie sheet, line bottom of dough with flour/cornmeal so it does not stick or use parchment paper). 2nd rise: 15/30 – 40/50 min or more depending on shapes and type of dough.
5.) Bake in hot oven at 425 degrees. (May use a hot stone if you have one, but hot stone needs to be 425 degrees when placing dough onto it). Bake for about 20 to 35 minutes depending on size of bread.
Filled Breads Fillings :
Nutella – Thick jam of choice – Pesto – Cinnamon Sugar
Filled Breads Shaping – Roll out dough to a large rectangle. Spread ingredients on a small rectangle on one end of rolled out dough. Roll up filling end first into a tight roll. Curl into a spiral & pinch ends closed or cut into pieces & braid or tie into a knot. Bake filled bread as normal or slightly longer to account for filling adding extra density.